I love the old hymn "All Things Bright and Beautiful." Indeed, He has made all things well, all things glorious . . . but a quick scan of the world and my own life can't help but draw out the question, what about all those things that are broken?
What about those bridges burning hot and bright in the night, those open wounds that—try as we might—can't quite seem to heal, or those relationships that resemble something akin to the Mayan ruins? What about the brokenness manifested in our very own bodies in the form of illness, disease, cancer, infertility, and on and on?
I know firsthand the sinking, spinning feeling of watching a part of your life shatter, right in front of your eyes. Perhaps you do, too.
What are we to do with all these things in our world, our relationships, our careers, our families, and our bodies that are just broken?
Do you know, dear reader, this is not the world God intended, nor the world He created? Do you know that your brokenness grieves Him just as a parent grieves over a child? As believers, this seems an obvious truth, but I'm finding how comforting and important it is to remind oneself of it, and often.
In his Bible study "Recovering Redemption," Matt Chandler poignantly describes what happened the moment sin entered God's perfect creation:
Everything screeched violently out of sync from the rhythm and harmony of God's original design. Rebellion had been declared against the King of glory. Everything was broken. Everything is still broken.
The reality of our fractured world can quickly overwhelm and crush the spirit. Do you ever find yourself flinching as you watch the news? I know I do.
We are all so full of longing, so full of desire, so overcome by our seeking hearts, the manifestation of which sends us off into a million different, destructive directions. The result? Even more brokenness enters the picture.
The excellent news in the midst of all the mess is that we do not have to stay and wallow in that mess! We are not without remedy.
Provident for us, we serve a God who is well acquainted with our brokenness—and who stands ready and able to speak into those splintered places, bringing new life, wholeness, purpose, and beauty out of the ash pit in which we find ourselves.
The scripture is full of verse after verse detailing God's redeeming, restoring work in our lives. In promise upon promise, our Father makes clear His heart for us as His children: He longs to restore, heal, and bind up what's been broken in all of us.
Isaiah 61 contains what I believe to be some of the most beautiful promises in all of scripture:
The Spirit of the Sovereign Lord is on me, because the Lord has anointed me to preach good news to the poor. He has sent me to bind up the brokenhearted, to proclaim freedom for the captives and release from darkness for the prisoners, to proclaim the year of the Lord's favor . . . (Isaiah 61:1-2 NIV).
Similarly, Psalm 147:3 promises, He heals the brokenhearted and binds up their wounds (NIV).
Our God meets us in our need, as He is well acquainted with the realities of living in this damaged world. Jesus shares in our brokenness, for indeed, His very body was broken for us. We affirm this truth every time we take communion and whisper the familiar words, this is my body, which is broken for you (1 Corinthians 11:24 KJV).
There is an abundance of rich symbolism found in broken things—and as much as we may hate when things are cracked and crumbling, our Father exudes a tender love of and compassion for broken things. If you feel broken today, know that your life is fertile soil, ready to grow into a living example of beauty from ashes, of dead bones rising, of resurrection power.
Only Jesus can bring this healing power to our brokenness—not success, not relationships, not approval, not even physical healing of our mortal bodies.
He heals us on a level that transcends our humanity. He pieces back together the shattered remnants on a level that surpasses even our earthly lives, for His healing reaches into our very souls—soothing, smoothing, and sealing them for all eternity.
I don't know what kind of brokenness you're experiencing in this season of life, but I want to speak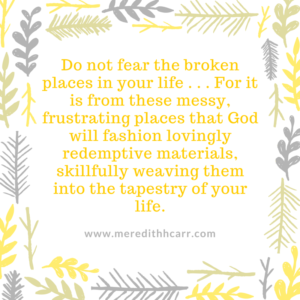 these words into your hurting heart: God is on your side. He didn't cause your brokenness, nor did He want it for you. He's on your team and mine.
Don't ever forget it.
Don't ever buy the lie, as I have in the past, that somehow God isn't for you and doesn't care about the fractured places in your life. Oh, dear reader, he most certainly does care—and He is the only one capable of restoring what is broken.
I want to tell you this simple thing: do not fear the broken places in your life. Do not fear the broken hearts, broken bodies, broken souls, broken jobs, and broken relationships. For it is from these messy, frustrating places that God will fashion lovingly redemptive materials, skillfully weaving them into the tapestry of your life.
He never wanted brokenness—but He takes it and turns it on its head, bestowing on us a crown of beauty instead of ashes (Isaiah 61:3 NIV).
Run to the foot of the cross with every ounce of your brokenness, bringing it before the One who restores your soul (see Psalm 23:3 NIV). Let Him begin putting all those sharp, jagged pieces back together.
I'll meet you there, and together we can marvel at the incredible, illuminating story God is writing out of the darkness.
Blessings,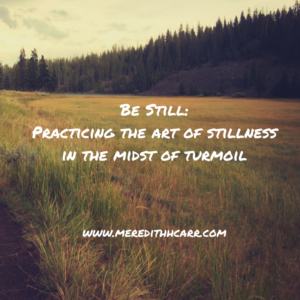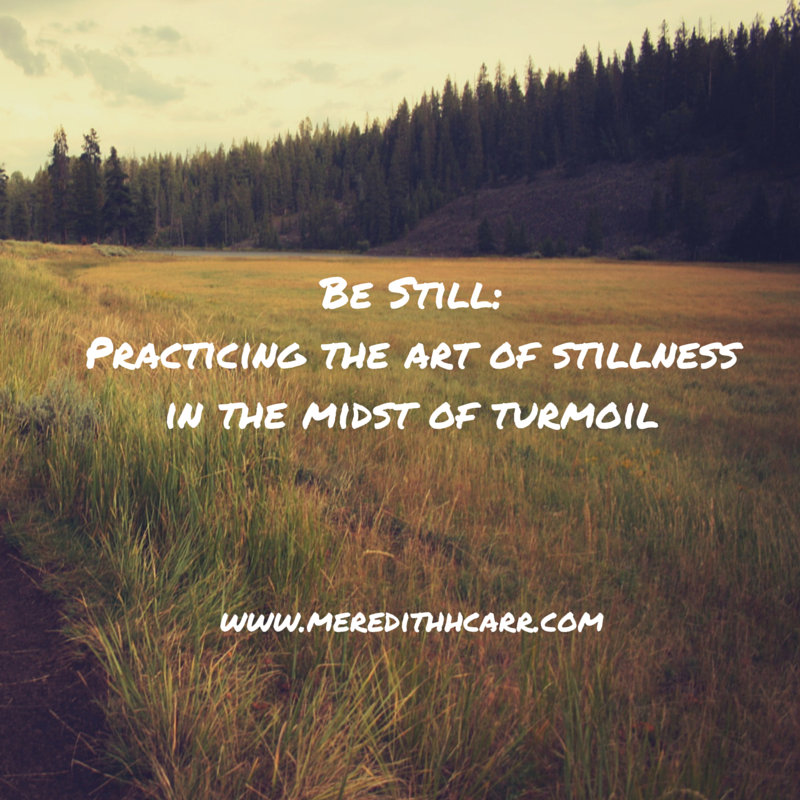 This post is a part of April's Series, Be Still: Practicing the Art of Stillness in the Midst of Turmoil. In what ways have you seen the Lord bring restoration to your brokenness?
Are there circumstances you're able to look back on now and see His redemptive hand? Share your encouraging story with us and start a discussion in the comments below! 
Join me on Monday as I'll be launching the first installment of "Cultivating Community," a new monthly feature that will bring words of encouragement from a different guest blogger each month!
And be sure and come back next Friday as we'll be finishing up the month of April by diving into the tough question: is Jesus really enough?