Happy Monday, readers! As we near the end of July, I'm excited to bring you words of encouragement from my friend and blogger Julie Loos. Julie manages a busy home of five children and writes openly and honestly about the messes of our everyday lives–so she was a perfect fit for this summer's theme!
As you read her words, I hope you will be encouraged to bring all the messy corners of your heart to Christ and let Him cleanse and restore you. Blessings!
---
What Are the Best Lessons God Teaches in the Mess?
by Julie Loos
Do you seem to be stuck in a perpetual mess? I'm not talking about the clutter in your house or your car. Those are messes you can roll up your sleeves and get to work on with the vacuum and Formula 409®. If you're a mom, you might be able to see a sparkling clean area for about an eye blink.
The mess I'm talking about is in the inside.
The debris that ebbs and flows daily. Some days you can conquer it, but other days it just wants to spew itself all over your insides. You can't break free from it.
My clutter is anxiety. I didn't know it personally until a few years ago. It took a hold of me quickly, and it seems to be taking a long time to rid itself of me. I am sick of it, and I'd dose myself in any cleaning product if it would promise to leave me.
For years I searched and clawed for answers and potions to rid myself of it. I hated its ugly influence on my life. I couldn't get away from it. It was starting to take me under.
What's your clutter? Anxiety, depression, or addiction? Maybe something different, but nevertheless it has its tentacles in you and your insides?
Are you weary and overwhelmed and just plain old sick of it? Are you scrambling for something to give you your old life back, or even take you to a new life?
When I was in the midst of this strangling time, I wanted it to be different. What I've come to understand is the mess made me re-evaluate myself. I needed some inner heart cleaning. It had to be done one heart string at a time. It was painful and yucky work, and I didn't want to do it.
To become the best me, each heart string needed His work.
Here are five things I've learned during messy seasons:
I'm not enough
So many times, I think I can pull myself up by my bootstraps. I keep things to myself because I don't need anyone's help. Can I let you in on a little secret? We all are dealing with issues. The best healing happens when we share. God is enough. He will always be enough. He promises to give us strength, and His power overcomes our weakness. Walking hand in hand with God changes me, fills me, and allows me to spill my gifts onto others. I become overflowing with Him.
John 15:5 (NLT) Yes, I am the vine; you are the branches. Those who remain in me, and I in them, will produce much fruit. For apart from me you can do nothing.
You need to walk through this season, not sweep it under a rug
It's not fun, and it's painful, but healing can only happen when you walk through it. I have learned so much about myself. I have seen what parts of me need work. Only from being on my knees in total dependence on God have I seen where I need His work to help me. Strength happens when we strive through and instead of suppress.
John 16:33 (NLT) I have told you all this so that you may have peace in me. Here on earth you will have many trials and sorrows. But take heart, because I have overcome the world.
Christian living is more than going to church or saying religious clichés
During this season, my faith was tested. Was God my all-in-all or not? I had to trust in God and my faith because it's all I had. I couldn't see healing, but I knew it was coming. I put my Bible knowledge into practice.
James 1:22 (NLT) But don't just listen to God's word. You must do what it says. Otherwise, you are only fooling yourselves.
Admitting your weakness is not a bad thing…it's the best thing
I was afraid to show others how broken I was, but God has done amazing things since I began unmasking my mess. My relationship with God has been strengthened, my dependence on him has increased, and the wall surrounding me has come down. There is encouragement in sharing with others and understanding that we all struggle.
II Corinthians 12:9-11 (NLT) Each time he said, My grace is all you need. My power works best in weakness. So now I am glad to boast about my weaknesses, so that the power of Christ can work through me. That's why I take pleasure in my weaknesses, and in the insults, hardships, persecutions, and troubles that I suffer for Christ. For when I am weak, then I am strong.
God will never leave me
 When I was in the throes of anxiety, I felt alone. Many prayers were sent heavenward from my mouth, and it seemed like they were falling on deaf ears. God hears them all. I might feel alone, but my feelings lie to me. God is always present whether I believe it or feel it.
John 14:18 (NLT) No, I will not abandon you as orphans—I will come to you.
 * * *
Fear can keep us from His fullness.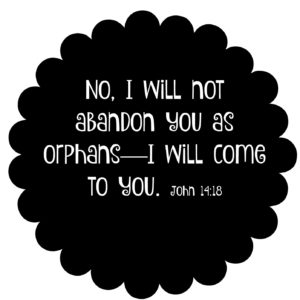 I didn't want to be "less" anymore, but His best; therefore, I'm accepting my brokenness and using my mess for His message.
This journey won't be easy, and many days it will be one step forward and two steps back. But, I can promise you that healing is coming. It might not be the healing you imagine, but God won't leave you stuck. He will bring you a type of healing that will surpass your way of healing.
As your heartstrings are made new, you will begin to look more like Christ. Your heartstrings couldn't have been so exposed without this mess.
Your sister in Christ,
Julie
---
Juli

e Loos is the mom of 5 kids and has been happily married to Greg for 17 years. She loves to read, eat chocolate, drink iced tea and spend time writing in the midst of messes.
You can find her blog at unmaskingthemess.com or follow her on Facebook at www.facebook.com/unmaskingthemess/.
You can also connect with Julie via Twitter @juliealoos and on Instagram at juliealoos.