Happy Monday, readers!
So this post is a little different from my typical ones, but I wanted to share some upcoming changes to the website and give you guys a chance to win some freebies!
As most of you know, I've been writing for essentially my whole life, but at the Lord's guidance, I've become more serious and focused about pursuing this craft over the past year.
A part of that journey recently involved becoming a member of COMPEL Training, a phenomenal resource developed by Lysa TerKeurst of Proverbs 31 Ministries. If you're at all interested in the craft of writing (particularly non-fiction), I highly encourage you to check it out!
In just a short time, I've been amazed at what I've learned and what God is teaching me through this training. It's been inspiring and also a bit like drinking from a fire hose!
While going through the teaching materials, it became clear to me that I could use more structure and organization for this blog. You guys have been so gracious and supportive, continuing to read even though I've probably driven you a little crazy by playing Russian Roulette with the days and times that posts are published.
So for your sanity and mine—with God's direction and leading—I'm whipping this blog into shape!
Here's what you can expect from me:
Regularly scheduled posts, published on FRIDAY of each week
Monthly THEMES, so you'll have an idea of what topics are coming up
Incorporation of a regular monthly feature, be it a book review or a guest post from a fellow COMPEL member. It is a joy to be a part of such a talented group of writers, and I hope to share their work with you all!
As my own way of saying THANK YOU for reading and encouraging me, I'm going to be selecting two subscribers through random draw to receive a small "inspiration" gift to inspire and encourage you in your walk!!
This freebie will include:
Starbucks gift card – because hey, who doesn't need caffeine?
Starbucks mug – that caffeine needs a home!
A copy of the Inspire Forgiveness Anthology, full of encouraging stories, poems, and devotions related to forgiveness (including one by yours truly!). Who couldn't use a reminder about the importance of forgiveness?!
It's a hard and sometimes scary thing, this pursuing of a dream—this pouring out of heart and soul and publishing it into the void. So this is a small way for me to say thank you for reading and journeying with me!
To be eligible for the drawing, simply sign up to receive posts via-email. And, since I only post once a week, I can assure you I won't be bombarding you with e-mails :-).
**Note: view the website from your desktop to subscribe. I don't believe there's currently a way to subscribe via e-mai from your smart phone, but I will look into this!
Not to worry—for those of you who already subscribe via e-mail, you'll be entered to win too!
Sign up by Monday, April 25th, and the winners will be chosen on Friday, April 29th!
With that, I'm thrilled to share with you the theme for April—Be Still: Practicing the Art of Stillness in the Midst of Turmoil.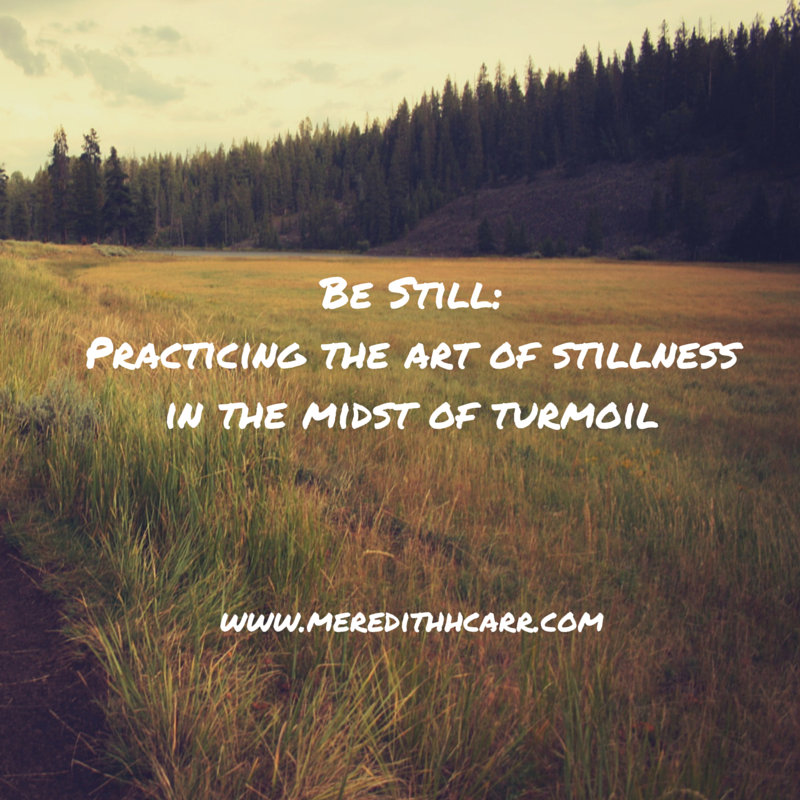 I don't know about you, but the concept of stillness has been on my mind a lot lately … probably because I feel anything but still, inwardly and outwardly. So much in our lives pulls and tugs at us, dragging us away from stillness before Him and into a pit of worry, anxiety, and fear.
In one of my all-time favorite passages of scripture, the Psalmist writes:
Be still, and know that I am God; I will be exalted among the nations, I will be exalted in the earth (Psalm 46:10 NIV).
What would it look like to embody this kind of stillness?
In the midst of rejection?
In the midst of loneliness?
In the midst of brokenness?
In the midst of our deepest doubts about Jesus and His sufficiency in our lives?
These are the tough issues I've been wrestling through recently—can you relate? If so, I would love to hear from you, and I look forward to journeying through these tough issues together in this space.
So with that, I'll sign off—thankful to be able to tell you that, Lord willing, I'll see you Friday!
And let me again say a heartfelt thank you—your comments, messages, likes, shares, etc. encourage me more than you know, and I deeply appreciate each one of you!
Much love and many blessings,