It was a simple question: what do you have coming up in these next couple of months? My mom asked me this as we drove to the airport, and I had to do the one thing I despise doing the most—dropping her off after a nice, long visit.
And while her question was simple enough, I couldn't believe the overwhelming sense of loneliness washing over me as we zipped up the 5 and I thought about the answer.
Oh, make no mistake, my schedule is full—I'm not sitting around with my two children, isolated from people and social interaction. Every week is filled to the brim with appointments and therapy sessions and grocery shopping and Chick-Fil-A runs and sometimes play dates, when our locked-in schedule allows.
And yet, busyness does not equal connectedness. And in that moment, I felt the ache created when you find yourself surrounded by people yet still feeling alone.
I marinated on this question the whole way back from the airport and for days afterwards, until I sensed the pressing in of another question—
Can loneliness be a gift?
The Treasure of Ultimate Fellowship
As counterintuitive as the thought seems, I'm beginning to see how yes, it may indeed be a gift, tender and hidden deep in the layers of our heart's hollow places.
When we're facing loneliness, be it born out of a desire for friends, for a spouse, for children, for genuine soul-connection with other human souls, it's easy to slip into a place of feeling forgotten about and unseen by God.
But in reality? Nothing could be farther from the truth. No matter how alone or empty or unseen you may feel, your reality and mine is that we have a God who is never unaware or unconcerned with our lonesomeness. And in truth, He is the only one who can fully meet our need to be fully known and loved and cared for.
Psalm 34:18 says:
The Lord is close to the brokenhearted and saves those who are crushed in spirit (NIV).
Dear reader, do you know what an amazing promise this is? When you are crushed under the empty weight of loneliness, God is closer to you than ever! His loving, restoring spirit is hovering above and around your broken heart, wiping those tears from your eyes with an unseen tender hand.
I know this to be true—know it in my own restlessness, my own tears, and my own spirit, which has been crushed at times by the hollowness of solitude.
In a world where we're limited to our 5 senses, let us never forget that the God who we cannot see still sees us. We are never alone, no matter how void our hearts or homes feel.
Never.
In my need, I sensed God drawing me into a deeper, more focused fellowship with Him. Sometimes, the throbbing of an achy heart is the fastest way for Him to grab and maintain our attention—to cause us to be still before Him, making ourselves available to receive the soul-satisfying peace that comes from communion with Him.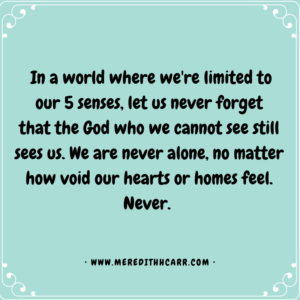 Lysa TerKeurst recently wrote that, "God wants us to know that times of silence are really pathways to closeness with Him."
Perhaps God feels silent in your isolation. Perhaps your request for a spouse or a better marriage or deep friendships or children seems unheard, a prayer sent out into an empty void . . .
. . . yet perhaps the Father is using that void to invite you into something far better, far richer, and far more satisfying than any earthly gift you could imagine.
A Season to Embrace
Our God longs for us to know the truth of His love and ever-lasting presence. He loves us so much that He is willing to let us experience the pain of loneliness in order to pull us into ultimate fellowship with Him.
In Romans 8:38-39, Paul wrote:
For I am convinced that neither death nor life, neither angels nor demons, neither the present nor the future, nor any powers, neither height nor depth, nor anything else in all creation, will be able to separate us from the love of God that is in Christ Jesus our Lord (NIV).
I don't know about you, but this is a love I want to know—not simply in my head, but in my deepest heart . . . even if it takes the uncomfortable force of loneliness to get there.
Sweet reader, let me encourage you to inhale a deep breath and let go. Allow stillness to permeate those empty places within your heart. Jesus is there, in all those places.
And the loneliness? The desire? The silent answer to your prayers? I believe it is a season, settled upon you with a purpose. And like all seasons, I don't believe it will last forever.
I believe there will be friends. A partner. Children. Laughter. I don't know the future, but as King David believed in Psalm 27, so I too believe that you and I will see the goodness of the Lord in the land of the living (NIV). Perhaps this goodness will look differently than we anticipated … but I nevertheless pray and hope for those things for you and for me.
In closing, may I offer up a challenge for us both? Grab your Bible or your Bible app, open up to Psalm 46, and take 10-15 minutes to be still, slowly drinking in and savoring the words of this short, powerful Psalm.
Speak to Him. Let Him speak to you. Ask God to show you how your loneliness may indeed be a gift, and then get to unwrapping, my friend.
Treasures await.
Blessings,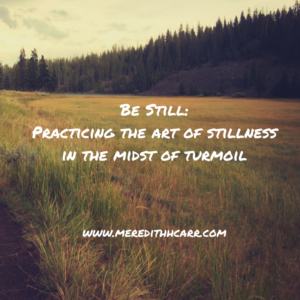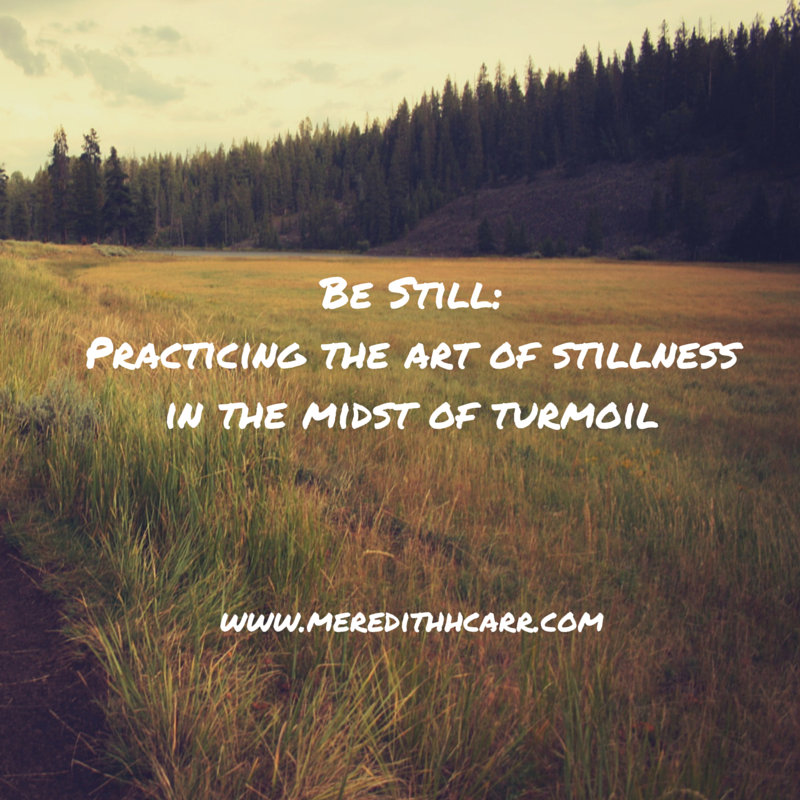 This post is a part of April's Series, Be Still: Practicing the Art of Stillness in the Midst of Turmoil. In what ways could the Lord be using your loneliness as a gift? I would love to hear, so feel free to start a discussion in the comments below!
Join us next Friday as we'll be looking at ways to find peace in the midst of brokenness.