Happy Friday, readers! I hope your month of May is off to a great start. Today, I'm excited to kick off the new series for this month, focused all about motherhood: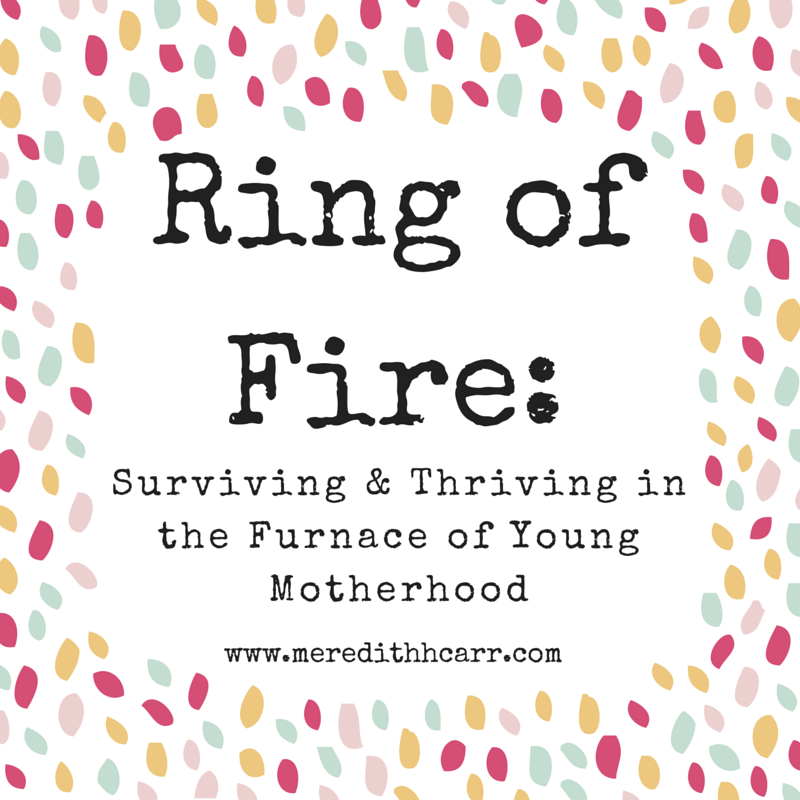 If we're honest, motherhood certainly feels like a furnace at times, right?? And then there are the days where that furnace is seemingly heated seven times hotter than usual (see Daniel 3:19).
All month, we'll be talking about how to handle living in the midst of that heat. No, I don't consider myself as having it all figured out, as I'm right in the thick of toddlerhood—but what I'm realizing is that oftentimes, once a mom exits one phase, she naturally moves on to the next and forgets the difficulties of the previous phases (thank goodness, right?). Perspective is often encouraging, yet we also simply need to hear me, too from others who are similarly situated.
So my heart this month is to encourage, come alongside, and gather together all us moms who find ourselves in the thick of pregnancy, newborns, strong-willed toddlers, temper tantrums, potty training, and intense sleep-deprivation. I write from a place of solidarity, with the hope of putting words to the thoughts, emotions, and trials we all face as moms of young ones.
Are there harder seasons ahead? Of course. But today, we need to band together, knowing that although motherhood often lends itself to feeling isolated, we are not alone! We feel alone. Most of us are no longer surrounded by that village it reportedly takes to raise a child. We live in our lovely homes in our lovely neighborhoods—so close, yet so far away from each other's hearts. Let's forget the voice of fear holding us back and be willing to shatter the glass separating us!
While this month's theme is quite specific, I believe the truths of God's word and who He is to us apply in all circumstances. Maybe you're not a mom of littles, but we are all in a furnace of some type—so I hope these posts will encourage you, no matter your season of life!
With that, let's jump right in. Today's post was originally published as a guest post last month, but I believe it provides a great starting point for this month. Take heart as you wait on the Lord, knowing that your perseverance and trust will reap a bountiful harvest one day!
---
Waiting for the Harvest
Note: this post originally appeared on author Jennifer Slattery's blog as part of her "Mama Mondays" feature.
I promised them I'd be right back. I just needed to step into the pantry to look for that box of much-desired Teddy Grahams.
Alone. And behind the thin layer of protection afforded by the pantry door.
As tiny fists pounded the pressed wood separating me from my 1- and 2-year-old toddlers, my ears absorbed the millionth whiny cries of the day. Without warning, hot tears filled my eyes and made their way down my flushed cheeks.
I'm so tired! The inaudible scream left my heart and shot up to God.
Tired of the whining. Tired of the crying. Tired of the sheer volume of epic neediness two toddlers can exhibit!
Yes, I needed to duck into my pantry to look for my children's snack … but more than anything, I needed a good old-fashioned time out.
Inside that small space, in a brief moment alone, I felt the gentle hand of my Heavenly Father on my shoulder as He whispered, be still.
The words of Matthew 11:28 resonated with my fatigued soul: Come to me, all you who are weary and burdened, and I will give you rest (NIV).
Breathing in the truth of these words, I wiped my tears, whispered to Jesus how worn out I felt, and timidly emerged from the pantry—Teddy Grahams in hand—to see smiling, happy faces.
* * * * *
Motherhood is hard. That sounds obvious, but oftentimes the world makes us forget the truth that this high and holy work we're doing is about so much more than simply feeding hungry mouths and clothing precious bodies. We are nurturing souls, sculpting human hearts and minds in the midst of the mundane, everyday tasks we do.
It is all at once boring and chaotic. Routine and unpredictable. Filled with incredible highs and wrenching lows.
In the exhausting hyper-vigilance created by mothering young ones, I am reminded of the words of Galatians 6:9:
Let us not become weary in doing good, for at the proper time we will reap a harvest if we do not give up (NIV, emphasis added).
These early years of motherhood are all about laying the hard, laborious groundwork. Sowing, planting, watering, pulling weeds, shooing away birds, endlessly tending to tender, young shoots. The harvest appears very far off at times, and it's easy to lose your way in the midst of all the work. This I understand, and all too well.
Dear mama, I know you are weary—I am too. But let us cling to the beautiful promise in this verse. All that hard work and sacrifice? It matters, and you and I will see the harvest … one day … if we will only not give up!
So keep on loving those little ones. Keep on showing patience and grace and forgiveness and kindness and joy in the midst of these intense, chaotic days. Keep on keeping on.
Your babies are watching, and their little senses are taking it all in—taking in all the love and sacrifice and grace you're offering, day after weary, beautiful day.
And one fine day, you will emerge from the pantry or wherever your hiding place happens to be and look up to see the beginnings of a golden, bountiful harvest. Born of love and tears and perseverance, this harvest will make all these sowing and cultivating days worth the effort.
And you and I will feast with joy.
Blessings,