The e-mail arrived early one morning in my inbox. The cheeriness of the subject line grated against my half-asleep nerves and belied it's un-cheery content. My tired eyes quickly scanned the words:
Thank you for sharing … so honored you submitted … yet …
And there it was: the dreaded yet. The despised "thanks, but no thanks," to a guest post submission.
This wasn't my first rejection letter, and it won't be the last … but this one stung. I'd poured my heart into this guest post. Prayed over it. Wrestled with it. Read and re-read and edited until I felt a surge of peace and hope as I clicked the "submit" button.
And yet … there it was, the verdict in cold black and white: my best wasn't good enough.
Like a solid punch to the gut, my shoulder slump said it all. I was defeated and discouraged, the zippy wind sucked right out of my sails. In those blurry moments immediately following disappointment, the internal debate began in earnest in my mind:
What's the point in continuing when a big fat "no" awaits me at every turn?
Why am I even writing if no one is reading it?
If my best wasn't good enough, then what will ever be?
The Reality of Rejection
Perhaps you can't relate to the specific rejection of an aspiring writer, but I'm willing to bet that life has well acquainted you with the prickly reality of rejection.
We can all look back and recall those jobs we didn't get, those relationships that didn't work out, those friends who betrayed us or simply forgot about us, those heart-crushing "no's" we've received.
Whatever the context, rejection hits us at the core of who we are, attacking our identity with ruthless intent. It says you are not good enough, smart enough, talented enough, pretty enough, successful enough, and on and on until we unwittingly begin to agree.
Sitting there at my desk, cloaked in the uncomfortable robe of rejection, I asked God how I could be still and maintain perspective in the middle of these painful moments. As loudly as the lies called, I couldn't help but think, there must be a better way than that of self-condemnation.
The Limits of Rejection
The Lord used this experience in my life as a kind of "wake up call," forcing me to look more closely at why I write and for whom I'm writing. Rejection has a way of getting our attention and pushing us to answer hard questions.
Am I writing for the sole purpose of achieving publication? Recognition? The praise of men? If so, I'll be sidelined and rendered impotent by rejection in no time flat.
Or am I writing because God has called me to do so? Am I faithfully following the path before me because He's asked me to—bumps, bruises, and all?
If we can confidently say we are following God's will, then there's very little room for discouragement and self-doubt, for Blessed is she who has believed that what the Lord has said to her will be accomplished (Luke 1:45 NIV).
One of my favorite verses, Psalm 138:8, says:
The Lord will fulfill His purpose for me; Your love, O Lord, endures forever—do not abandon the works of Your Hands (NIV).
When you and I face a setback along the way or a "no" that seems unworkable and unreasonable, we must remember that God's plans for us will stand. Rejection cannot limit or thwart God's work in our lives, provided we walk in obedience and trust, expectantly looking for Him to work all things together for our good (Romans 8:28).
And truthfully? All of us could likely look back on at least one of those rejections and see how God saved us for something better, rescuing us from what we just knew we had to have. He is indeed a good, good Father, giving us what we need rather than what we want.
Even when it comes in the form of a "no."
The Redemption of Rejection
How can we find stillness in the churning of disappointment and foiled plans? We must direct our minds to the truth, meditating on His word versus the lies our enemy throws at us.
God uses rejection to direct our paths. Just as an open door means "yes, walk in this way," so a closed door simply means "nope, we're not going in that direction." Rejection is not an indictment on who you are.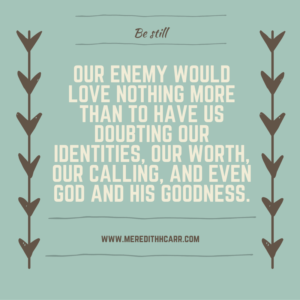 That may sound like Oprah-worthy fluffy self-talk, but I believe it to be the truth. Our enemy would love nothing more than to have us doubting our identities, our worth, our calling, and even God and His goodness.
And lest we forget, our God is infinitely kind and understanding. Jesus walked this earth and felt everything we feel. Referring to Jesus, the prophet Isaiah wrote:
He was despised and rejected by men, a man of sorrows, and familiar with suffering (Isaiah 53:3 NIV).
So when we're drawn to unrest on account of rejection, may we remember to run to our Savior and give Him our pain—He understands!
When we want to wiggle and wriggle in the emotion of our failed ways, may we refocus our minds and sink deep into trust, for God is always working His good and gracious plans out in our lives.
And when we're faced with the hard task of sitting still and waiting for God to unfold His purposes, may we hit the pause button and allow our senses to download the beauty and blessings present in each day.
The pain of rejection is real, sweet reader, this I know—but His ways are so much higher than ours (see Isaiah 55:8-9). So shut the door on yesterday's rejection and allow it to propel you forward into the confident rest we have in Him!
Blessings,

This post is a part of April's series, Be Still: Practicing the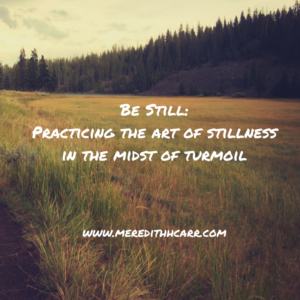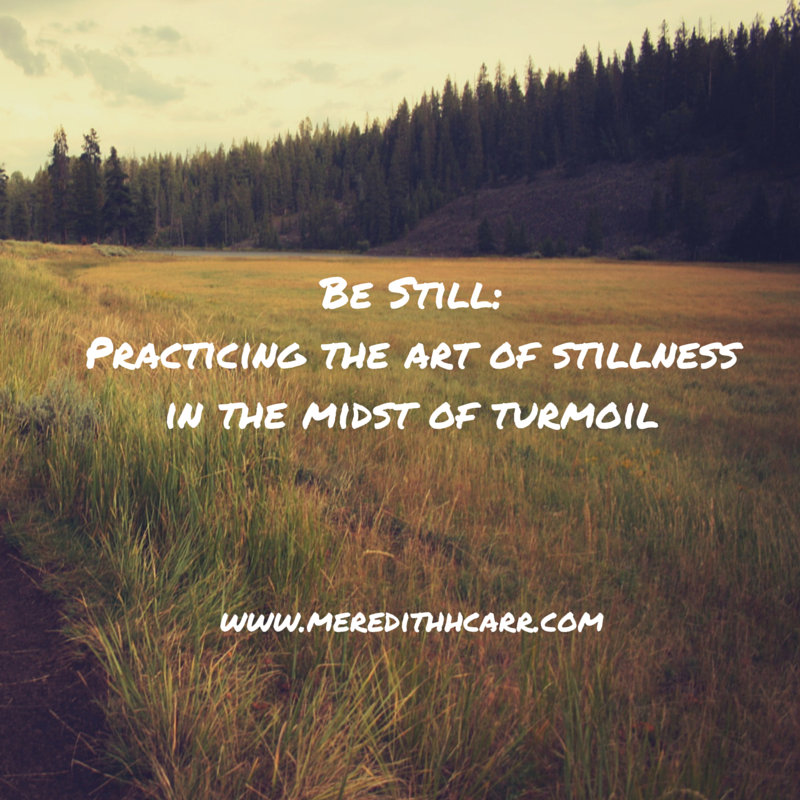 Art of Stillness in the Midst of Turmoil. How do you practice being still when faced with rejection? I would love to hear, so feel free to start a discussion in the comments below!
Join us next Friday as we'll be looking at ways to find peace in the midst of loneliness.