Happy Memorial Day, readers!
This month's Cultivating Community post comes from Jennifer Moye, a COMPEL sister and fellow busy mom!
As parents, it's all too easy for us to find ourselves sucked into the world's way of thinking when it comes to our mothering and what it should look like. Today, Jen encourages us to keep our eyes focused on God and His ways, learning to be still and seek His approval above all else.
As we close out the month of May, I hope Jen's words will encourage you to continue relying on our Great Helper as you daily undertake the task of raising your babies!
---
Keeping Up With the "Pinterest Mom"

Before my eyes have adjusted to the light of 6 am, I hear the not so little voice of our 3 year old, "Where's my juice cup!" It's a statement, not a question by the way.
I'm hungry. Play with me. I'm bored. He hit me. I don't like spaghetti. I hate this show. I love spaghetti. I don't need a nap. Mom. Mom. MOOOOOM!!!!
Can you hear these voices? If so, you must be a mommy too! And while I love our three little boys with more than I knew my heart could hold, I am so tired.
The blog world is overflowing with articles and posts on how to be the perfect "Pinterest mom". Everywhere I turn it seems like that put together mom is stalking me with her perfectly done makeup and hair. I am sure she lost all of her baby weight before she left the hospital and what? What is a c-section pouch? She has no idea.
Her children's clothes all match, no stains in tow. And they all walk quietly in a line behind her like a bunch of little ducklings. You know this mom right? Well, I don't even know what to say to her. I don't hate her. I used to be jealous of her, but not anymore.
You see, God has been teaching me something in the midst of this mayhem we call motherhood. He is teaching me to be still. Still enough to enjoy what matters . . . not to this world but what matters to Him. God did not call us to be parents so we could show off how good we are at juggling. God called us to be parents so that He would be glorified through us and through our children.
Called. That is what we are—called by God Almighty and entrusted with His little children. Have you ever thought of it like that? They aren't just ours, they are His first. Our calling is divine, and I would argue one of the most important callings we can have in this life.
When I start to get overwhelmed with the craziness of this life with kids, it is so important for me to stop and realize what really matters to God. I can run myself to the point of exhaustion in less than 24 hours trying to keep up with the demands this world and society put on a mother. These things are simply not what we are made for. We cannot serve two masters.
The first step in reigning in the chaos of parenting is deciding who it is we are trying to please:
Am I now trying to win the approval of human beings, or of God? Or am I trying to please people? If I were still trying to please people, I would not be a servant of Christ (Galatians 1:10).
What if we all agrees to choose God right now? I know it is hard. Comparison and guilt come at us from every direction, but right here in this moment, we must choose God. He is our Master. His opinion is the one that matters. This world will never be satisfied with us. This world is ruled by our enemy and wants everything opposite of what God wants for us.
So what does God value in our parenting? Scripture points to many things, but for today, I would like to share what God has been speaking to me lately.
If I were to get to the gates of Heaven and God asked me, "What have you done with the lives I entrusted you with?" what would I be able to say to Him? (By the way, this is not in the Bible anywhere. Just go with me for a moment.) How would I answer this question? What would He want to hear?
I sure don't know all the answers, but I am very confident God would not be looking for an answer like, "We all got out the door on time", or "Everyone matched today", or even "I made it through Costco with all three kids and no one got hurt." I think the answers God would want to hear would look more like love . . . grace . . . mercy . . . faith . . . worship.
Think about how our Heavenly Father parents us, as He is the perfect example for us to follow: He is quiet with us. He is loud with us. He sits with us in the floor and listens to our problems. He wakes with us in the middle of the night and comforts us without anger. He smiles at our obedience and gently guides us to His Word when we stray.
Most of all, He takes His time with us. He doesn't rush us to learn life's lessons, as He is patient and kind.
What if being a good mom looked more like dirty pants from playing in the sandbox and messy kitchens from family baking "experiences"? What if God thinks it is more important to spend time showing my kids love rather than rushing them through my day of errands? And what if I miss the joy of childhood because I am too busy trying to keep up with that exhausting super Pinterest mom?
I challenge you today to slow down, and get out of the crazy mom race. Be still for a bit and focus on the One who has called you to be a mother in the first place. He is your audience of One. In Him and for Him we should be raising our children, not for the approval of others. Life is hard enough without trying to be super-mom. I'd rather be found worthy in the eyes of my King than in the eye of anyone here on earth!
I will leave you with my favorite Psalm. One in which I find such strength and one that helps me to focus back on who He is and who I am not:
God is our refuge and strength, an ever-present help in trouble.
Therefore we will not fear, though the earth give way and the mountains fall into the heart of the sea, though its waters roar and foam and the mountains quake with their surging.

There is a river whose streams make glad the city of God, the holy place where the Most High dwells. God is within her, she will not fall; God will help her at break of day. Nations are in uproar, kingdoms fall; he lifts his voice, the earth melts.

The Lord Almighty is with us; the God of Jacob is our fortress.

Come and see what the Lord has done, the desolations he has brought on the earth. He makes wars cease to the ends of the earth. He breaks the bow and shatters the spear; he burns the shields with fire.

He says, "Be still, and know that I am God;  I will be exalted among the nations,  I will be exalted in the earth."

The Lord Almighty is with us; the God of Jacob is our fortress (Psalm 46).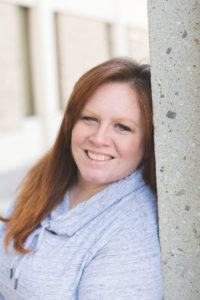 Jennifer is wife to an Airman and mom to three rambunctious little boys. With excitement on a daily basis and grace around every corner, she believes we are meant to live this life in community with others and with the mercy to mess up and try again….and again.
Being a mom is hard, but it is also one of the greatest callings we can have in this life. Her ministry to women is relevant and heartfelt with her core passion being that we learn to glorify our God in our parenting, our marriage, and in our everyday lives.
Join Jennifer's community online at:
www.pinterest.com/jenmoyewrites
---
So this concludes May's series, Ring of Fire: Surviving & Thriving in the Furnace of Young Motherhood.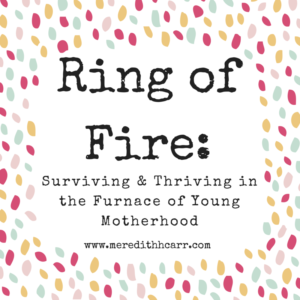 What a great month it's been! We've tackled some big issues and hopefully come away with a healthy dose of encouragement and strength in Him to keep on going. Thanks for reading and joining in the conversation–it's so nice to know we aren't alone in this journey of raising little ones!
A mama's work is never done, but we serve a God who is able to meet us in each and every trial and need. As we move forward into a hot, busy summer, I pray God's strength and love will settle on you like never before. Blessings!