My shaky hands reached in desperation for the phone. Through big, bulbous tear droplets, I dialed my mom's phone number, longing to pour out my heart into a safe space.
While a gentle spring breeze blew across my face and rustled my hair, I confessed the agony pressing in on my soul: I'm not cut out to be a mom!
In that moment, I felt the eerie clarity that must afflict the deranged: it seemed blaringly obvious that a glitch had occurred in God's plan, and I mistakenly ended up as the mother of 2 young children. I've been entrusted with two little ones, and I'm failing at every turn, and now there's another one on the way … what is God thinking??
As moms, we are all familiar with hard days and mom doubt. Someone didn't get enough sleep or enough coffee or enough patience, and when our precious blessings finally settle in for the night, we plop down on the couch with a sigh and a phew! And perhaps a glass of wine (or two).
There are those days, but then there are those days. Like the day I described above, where you look at yourself in the mirror and hang your head in shame after losing your cool with your kiddos. The days where you didn't know so much anger and frustration had tucked itself deep inside your heart. The days that leave you empty, broken, tearful, and doubting your very calling as a mom.
The days when all you hear is the deafening whisper, I am utterly failing at this mom thing.
I want to speak into your heart about those days, when a hot cup of tea and Netflix won't do the trick. The days when your sweet babies send you running to turn in your resignation letter, because they have utterly brought you to your very knees.
Mamas, when your children bring you to your knees, stay there. Don't get back up.
Stay there, and ask Jesus to join you—right there in the middle of the mess, the crushed cheerios and crushed spirits, the lake Eerie pee accidents, the bad attitudes, the anger, the fear, and the mom doubt.
Stay on your knees and listen. Listen for the comforting voice of your Father—let Him be the one to pick you back up and shut out the chorus of critics loudly pointing out all your shortcomings.
Mamas, if we're going to survive this season and the ones ahead, we must learn to recognize and discern the voice of our Father.
There are so many voices speaking to us about how to mother, how and when to do this, that, and the other. You can find a litany of articles to support and refute pretty much any parenting decision. It's enough to completely boggle the mind and leave you feeling like you've totally missed the mark some days.
And make no mistake—our enemy stands ready and eager to capitalize on those feelings of failure and confusion. We have to fight to discover and hold onto the truth.
John 10:27 says:
My sheep listen to my voice; I know them, and they follow me (NIV).
Discerning the Father's voice isn't always easy, but it does have a distinctive tone. Let's be honest, we all know we've had those days when we've messed up—it isn't just our children demonstrating a bad attitude. But God is in the business of conviction versus accusation. He is gracious and faithful to convict our mama hearts when they've gone astray.
When I'm being as stiff-necked as my three-year old or when I'm in need of some serious gratitude or when I simply need a good old fashioned time out, God readily meets me with firm conviction … but you know what?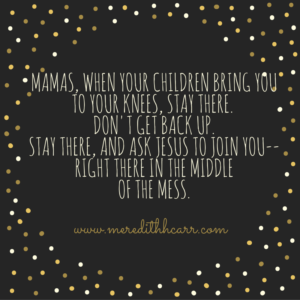 Even in the correction, He is unbelievably kind. He doesn't come wagging a smug finger at us; rather, He reaches out His Hand and invites us up out of the pit, up into something far better. His voice is inspiring, because He compels our hearts to want to change our ways.
This week, I want you to listen, sweet reader, and assess the tone of all those thoughts rattling around in your over-wired brain. Is there fear? Guilt? Condemnation bordering on harassment? Then you can know with confidence that this is not your Father's voice. God's heart longs to speak to us, but we've got to silence the destructive white noise in order to hear!
This is a moment to put 2 Corinthians 10:5 to work and take captive every thought to make it obedient to Christ (NIV).
Recently, God gave me a chance to put this into practice (oh how I wish we could simply learn without being tested!). Waking up early one morning, battling yet another day of a migraine, I felt immediately attacked in one particular area of my mothering.
One by one, the enemy hurled his accusations at me—accusations that, truth be told, I often stipulate to, proceeding to live the day with lies as my truth. But that day, perhaps because I felt so bad physically, I'd just had enough. I rebuked the enemy out loud, called him on his hogwash, and refused to buy in this time.
Perhaps that sounds silly, but a miraculous thing happened—the nagging cloud of failure lifted, and I was overcome by a joy so pure and steady that it produced a natural high of sorts. The war rages on, but this particular battle was won by standing on the truth of God's Word and my identity in Him.
I wish I could say I always stand firm and fight the lies, but of course I don't. The good news is that God gives opportunities daily to put this into action. We will never want for occasions to practice discerning His voice amidst the lies!
It's a battle, mamas, know that—you and I have to fight for joy and fight to hold onto the truth … but it's a fight worth undertaking!
Soldier on, brave mama, and stay on your knees in prayer until your gaze is firmly fixed on Him and your hands rest securely in His. I'll meet you on the battlefield with a knowing smile—and perhaps wielding a Grande latte in both hands.
Blessings,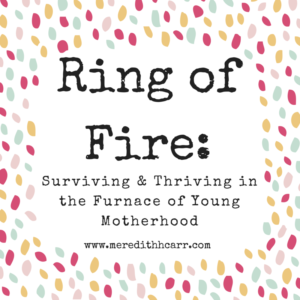 This post is a part of May's Series, Ring of Fire: Surviving & Thriving in the Furnace of Young Motherhood.

Do you ever find yourself sucked into believing the enemy's lies when those "worst of the worst" days roll around? How do you deal with them? Share your strategies with us!
Join us next Friday for encouragement and advice on finding rest and rejuvenation in the midst of the chaos that is motherhood.