As y'all know, Mother's Day was just a couple weeks ago. Ah, that day laden with expectations, gifts, and pressure. Whatever your day looked like, I want you to take a minute, close your eyes, and envision your dream Mother's Day:
Are there flowers? Chocolates? Breakfast in bed? Quiet time spent with your cherubs by your side, husband ready with the camera to take Instagram-worthy pictures?
All of this sounds lovely and indeed is lovely. But can I confess to you my ideal Mother's Day?
Being alone.
Yup, as I began thinking about what I desired, the first thing that popped into my head was alone time!! Sweet, rare alone time!
My internal dialogue jumped from amused to horror-stricken as I began to contemplate the implications of that craving. For years, I prayed and yearned and begged God for these babies … and on the day designated to "officially" celebrate my much-desired motherhood status, all I wanted was to run away to the mall for a few hours.
Is something wrong with me??
But before I could follow this thought down the rabbit hole, God whispered quite matter-of-factly, no, nothing is wrong with you. You're just tired.
Tired. Exhausted. Running on empty.
Yes. Can you relate?
That was a silly question—if you have children under your care, then I'm certain you can relate! Exhausted seems to come with the territory. The physical, mental, emotional, and spiritual hyper-vigilance accompanying the seemingly simple task of tending to little ones takes its toll on us.
Sometimes, mama just needs a good old-fashioned time out.
Time to wave the white flag, to remove oneself from the distractions, and to think about the state of our hearts.
Houston, We Have a Problem
I'm guessing you, like me, would readily welcome this kind of respite, but there's a problem: we happen to be mothering in an age that allows very little to no time for self-care. Moms naturally have a lot of work to do, but we've added heaps upon heaps of extra pressure and stress to our typical schedules.
The world tell us:
We have to look like a Victoria's Secret model and cook and decorate like Martha Stewart.
We have to throw Pinterest-worthy parties for our children, beginning from year one.
We have to volunteer at school, church, extra-curricular activities, and the like. Heaven forbid we bring a treat that's store-bought or contains—gasp!—sugar, gluten, or dairy.
We have to keep our outward lives looking shiny and bright, ready to upload and blast out to five forms of social media in an instant.
Basically, we have to be perfect. Supermom.
But you know what? You're not a Supermom. And neither am I. We are human and fragile and we have needs. Yes, as moms, we must often put other's needs above our own—but this doesn't equal neglecting our own needs entirely.
These ridiculous pressures and expectations are robbing us of joy, rest, and peace at every turn—and this is not the life Jesus envisions for you, tired mama.
Listen to what Jesus desires for us:
The thief's purpose is to steal and kill and destroy. My purpose is to give them a rich and satisfying life (John 10:10 NLT).

Do not let your hearts be troubled. Trust in God; trust also in Me (John 14:1 NIV).

Peace I leave with you; my peace I give you. I do not give as the world gives. Do not let your hearts be troubled and do not be afraid (John 14:27 NIV).
Rich and satisfying life. Rest in His sovereignty. Peace. A life free of fear.
Do these qualities describe your everyday life? I wish I could say all my days reflect the reality of walking in these promises, but quite often they don't.
Moms, it's time to bow out of the world's rat race and stop the futile task of pursuing perfection. It's an illusion. It's time to drop the mom guilt like it's hot. It's time to run to Jesus with your needs, your fears, and your empty tank, and let Him care for you in the lavishness of His love.
This will look different for each one of us, but I wanted to share 3 practical ways I'm learning to find rest and rejuvenation amidst the chaos, embracing the abundant life that is ours for the taking:
Fill Your Tank
Motherhood often feels and indeed often is all-consuming. Yet even so, you and I are complex, multi-faceted individuals who lived and thrived long before we wore the "mom" badge.
If you're anything like me, you are full of passions, dreams, and goals, in addition to the intense love and focus you have for your children. Becoming a mother changes you, yes, but you are still that unique person God created and gifted you to be.
Psalm 139:13-14 says—
For You created my inmost being; You knit me together in my mother's womb. I praise You because I am fearfully and wonderfully made (NIV).
Take a moment and think about who God created you to be—what do you love? What gets your blood pumping and brings a smile to your face? What activities fill your tank?
You may love to write, paint, cook, sing, decorate, craft, run, or any vast number of things—and being a great mom doesn't mean you have to shelve all the things that make you "you" for the next 18 years!
These parts of you will likely manifest differently in this busy season of motherhood. Would I love to write the sweeping Historical fiction novel that's been burning up my brain for years? Sure. Is now the time? No. My plate is full—but I've found that carving out even a little time each week to write invigorates me, ultimately helping me be a better mom.
Enlist your family or a sitter, drop the mom guilt, and begin carving out time to cultivate those uniquely-you things that fill your tank!
Sleep
Like, literally—sleep.
I know this is way easier said than done—we can't exactly force our children to stay in bed, short of reaching for the children's Benadryl (which I hear is frowned upon).
Even still, there are probably extra minutes or hours of sleep you could grasp, though it will take some self-discipline. Turn off Netflix, shut down your phone or laptop, and force yourself to turn in early—you'll be glad you did!
I know how tough it is to prioritize rest, as I myself tend to end up burning the candle at both ends…but when those ends meet in the middle, I burn right out—and everyone in my family suffers as a result. We are far easier targets for the enemy's attacks and lies when we're physically exhausted.
Don't underestimate the power of a good night's rest, mama! It's worth the effort, and all those t.v. shows and status updates will be there waiting for you in the morning.
Hold Onto Perspective Like Your Life Depends On It
Y'all. This one is so critical, at least for me. Motherhood is filled with such a beautiful tension: doing all we can to enjoy and be present for every moment while also knowing that the river is swiftly, irrevocably moving us down the winding way.
Good, bad, or indifferent, where you are now is a season. It will pass. It will not always be like this. And every season has its joys and challenges, so the best thing we can possibly do is embrace each day God gives us, love our babies with abandon, and stay on our knees in prayer.
One of the greatest articles on perspective I've read lately came from writer Marian Vischer, and you can find it HERE. Save it and read it often. I'm amazed at how much her words have helped me breathe, step back, and see this current season in a whole new light.
***
My challenge to you, mama, is to find a little you time this weekend. Sneak in a nap. Read a book. Journal. Sing. Run. Grab coffee with a girlfriend sans kiddos.
Take off the itchy, oppressive Supermom cape this world begs you to wear, and sink deep into God's satisfying soul-rest. You (and your loved ones) will be glad you did!
Blessings,


This post is a part of May's Series, Ring of Fire: Surviving & Thriving in the Furnace of Young Motherhood.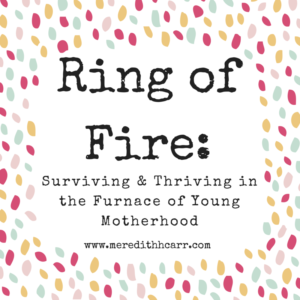 So let's hear it moms: are you in need of a time out? Do you find yourself craving a little "me time" or extra sleep?  I would love to hear how you've incorporated self-care into your busy mom life!

And join us next Friday for encouragement and tips on bringing balance to the circus act we call motherhood!